Welcome to East Meets West!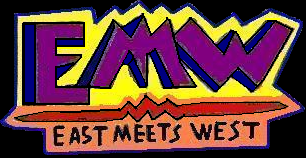 ***New Update!!!: I am soooooo sorry about the impossibly long wait for an update. Real life and more than a few computer problems brought EMW to a stand still for a while there, but here it is:
Match #12 is finally finished!!! Also, as an added bonus, the next part of EMW has also been added! TWO new EMW chapters for you to enjoy! New Artwork by a new artist has also been added!!!***
Some fight for love, others fight for hate. Some fight for honor, greed, or power. For some it's a passion, for others it's an obsession. Some crave the spotlight, while others operate in the dark.
Welcome to EMW.
East Meets West is the ultimate crossover, sports-entertainment, fan fiction featuring characters from, but not limited to, anime, comic books, and the WWE. I own none of the characters so far, but some of my original characters will make appearances eventually.
As this is a sports-entertainment fan fiction I have much of it already planned out for the long term (Actually writing it thatís the hard part), as such I, unfortunately, cannot accept too many requests for matches. However, I will accept inspiration. Meaning, if you like EMW, but donít see a match or character you want I will accept non-cannon writing or, better yet, artwork and will do my best to post it on this site.
The EMW e-mail is:thechad_emw@hotmail.com
As always reviews and comments are appreciated. Enjoy!
As promised, here is a tenative roster for EMW (WARNING! MASSIVE SPOILERS AHOY!!!).
EMW PART 1
Introduction: East Meets West!
Match #4: Swordplay and Secrets!
Match #5: The Biggest Dork in the Universe!
Interlude: Welcome to the New World Order!
Match #6: The Wonders of Science!
Match #8: Bra and Panties! Bra and Panties!
Match #9: Big Bad Battle Royale!
Match #10: Talisman Ladder Match!
Match #11: TMNT Survivor Series!
Match #12: Mecha Battle Royal!
Interlude: Impromptu Hardcore Match!
***********************************************************************************************
EAST MEETS WEST NON-CANNON/OMAKE FAN SECTION
Here it is! A section open to anyone who wants to make their own EMW match-up! Now accepting any and all submissions! Fan Art also accepted! Come one, come all!
Hak-Foo's Demise By Danny Patterson, The Seed of Chucky (A.K.A. EMW's #1 Fan!)
Interlude: The Big PPV By Danny Patterson, The Seed of Chucky
The Big PPV Part 1: The Tag Team Brawl By Danny Patterson, The Seed of Chucky
***********************************************************************************************
EAST MEETS WEST ARTWORK
"Alien Action: Zim vs Stitch!" by The Chad
"Dexter vs. Washu" by UsagiSailorMoon
"Zim vs. Stitch" by UsagiSailorMoon